Highlights
SUPERBELLS® Blue Moon Punch™ Calibrachoa USPPAF CanPBRAF
The arrestingly unique color of the new Blue Moon Punch will stop you in your tracks! Cool lavender blooms with a deep purple eye and black throat transition to silvery light purple as they age. Larger than typical, the flowers appear early in spring on cascading stems and continue to bloom into fall without deadheading in part sun to full sun. This variety has been screened specifically for resistance to Thielaviopsis.

GROWING TIP: Calibrachoa grows best in containers where they have enhanced drainage and can be fed consistently through the growing season.
ROCKIN'™ Deep Purple Salvia 'BBSAL09001' USPPAF CanPBRAF
An improvement over Amistad, this new salvia boasts a more compact, well-branched, less rangy habit that presents well as a thriller in large container combinations and in landscapes. Its large, deep purple flowers held by black bracts keep this plant in color all season long, attracting pollinators with their sweet nectar. This taller annual reaches 18-36" tall in part sun to full sun.

GROWING TIP: An ideal annual for bringing pollinators to the garden, this salvia thrives in heat and handles drought with ease. Average soil is usually sufficient, and deadheading helps to promote additional flower production.
HIPPO™ Red Hypoestes phyllostachya USPPAF CanPBRAF
You've never seen a polka dot plant like this! This super-sized, 16-22" tall, vegetative selection forms a bushy, upright clump of bright red and green polka dotted foliage that won't bolt into flower. The comparison between old seed varieties and this new vegetative selection is comparable to the difference between seed Lobularia and Snow Princess® Lobularia. Its use is extremely versatile, thriving in both sun and shade and suitable for both indoor and outdoor decorating.

GROWING TIP: One of the easiest plants to grow in the garden and in containers, polka dot plants thrive in sun and shade in average soil with average moisture. Gardeners in the deep south may wish to provide some protection from scorching afternoon sun.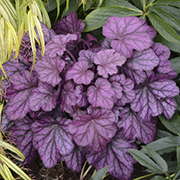 PRIMO™ 'Wild Rose' Heuchera USPPAF CanPBRAF
• Large, bright rosy purple leaves with charcoal veining keep their vibrant color all summer
• Burgundy scapes carry rosy pink flowers in midsummer
• H. villosa hybrid; naturally vigorous with good heat and humidity tolerance
• Zones 4-9
• 8-10" foliage height; 18-22" flower height;18-20" spread
• Sun to shade

GROWING TIP: Heucheras grow best and have the brightest coloration when grown in part shade, though with enough moisture, they will also grow in full sun. Some shade is required in southern regions. Good drainage is essential to overwintering success.
FUN AND GAMES® 'Eye Spy' Heucherella USPPAF CanPBRAF
• Replaces 'Leapfrog' this year
• Amber yellow with prominent center pattern in spring; mellows to bright green in summer
• Deeply dissected, showy, mounding foliage
• Bubblegum pink, bottlebrush flowers produced prolifically in spring
• Zones 4-9
• 8-10" foliage height; 16" flower height; 16-20" spread
• Part shade to shade

GROWING TIP: Heucherellas grow best and have the brightest coloration when grown in part shade. Yellow-leaved cultivars like 'Eye Spy' prefer more shade than dark-leaved varieties and will grow well in full shade. Good drainage is essential to overwintering success.
SUMMERIFIC® 'Cherry Choco Latte' Hibiscus USPPAF CanPBRAF
• Replaces 'Cherry Cheesecake' this year
• Very large, 8-9", white flowers flushed pink with red eye
• Blooms midsummer to frost; indeterminate bloomer with buds all up the stems
• Attractive dark green foliage with bronze highlights
• Compact, shrub-like habit
• Zones 4-9
• 4' height; 4' spread
• Part sun to sun

GROWING TIP: The most critical factor in growing hardy hibiscus is providing consistent moisture. Plants will drop their buds if they dry out or are growing in too much shade. Full sun is needed to draw out the darker leaf coloration and to develop plenty of flower buds.
Pugster Blue™ Buddleia 'SMNBDBT' USPPAF CanPBRAF
• Appealing true-blue flowers add hard-to-find color to any type of garden or landscape
• Produces full-sized flowers on a compact, dwarf frame
• Thick, sturdy stems ensure better winter hardiness in zone 5 compared to other dwarf butterfly bush
• Blooms continuously without deadheading
• Heat and drought tolerant
• Mounded, compact habit
• 24" tall and 24-36" wide
• USDA Zones 5-9

GROWING TIP: Butterfly bush requires full sun for best performance. Plant them in well-drained soil with the crown of the plant slightly above ground level. In cold climates, prune only in spring, after the new growth has begun to appear on the stems.
Invincibelle Wee White™ Hydrangea arborescens 'NCHA5' USPPAF CanPBRAF
• The only dwarf 'Annabelle' type hydrangea in the world
• Strong stems hold the flowers upright,even after summer storms
• Reblooming for months of fresh flowers
• Native to North America
• Low maintenance
• Mounded habit
• 12-30" inches tall and wide
• USDA Zones 3-9

GROWING TIP: Hydrangea arborescens grows and flowers best when planted in a minimum of six hours of bright sun, though afternoon shade is recommended in the south. Blooms on new wood; cut the whole plant back by a third in spring as new growth begins to appear. Feed with a granular fertilizer formulated for woody plants in spring if desired, and mulch to preserve moisture.

2018 National Recipes
2018 National Spring Recipe
LILAC FESTIVAL:
• Supetunia® Mini Blue Veined Petunia
• Supertuia® Royal Velvet™ Petunia
• Superbena® Violet Ice Verbena

2018 National Summer Recipe
SUMMERFEST:
• Goldilocks Rocks® Bidens
• Supebells® Coralina™ Calibrachoa
• Supertuia® Royal Velvet™ Petunia

2018 National Fall Recipe
ENCHANTED GARDEN:
• Sweet Caroline Raven Ipomoea
• Supetunia® Black Cherry™ Petunia
• Supertuia® Latte™ Petunia
2018 National Plants of the Year

To find more information on additional new varieties not shown here, click on the annuals, perennials and shrubs tabs above.

Download the Features & Benefits for all the 2018 introductions: